<< back to main menu <<
MODEL TMF - TWIN MOTOR FEEDERS - PAN & GRIZZLY VIBRATING FEEDERS
Heavy Duty
QUICK FACTS

No Belts to Maintain
Smooth Conveyance Action
Adjustable Flow
No Springs to Tune or
Air Gaps to Adjust
Above or Below
Deck Drives
Base of Suspended Models
Explosion Proof
Units Available

Vibrating Feeder (pan feeder) supplied to an OEM manufacturer of scrap processing equipment, used in an auto- mobile materials reclaiming operation. Trough is lined with 5/8" thick UHMW Polyurethane.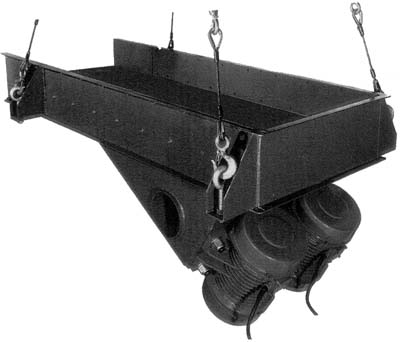 MODEL TMF-3072 twin motor vibrating feeder with overhead coil spring suspension mounting. Trough is 30" wide × 72" long with replaceable abrasive resistant liners.
Model TMF-1248-660-4-(2)S with
12" x 48" trough and side mounted motors.

Low Profile Model TMF-1878-1320-4-(2) twin motor feeder with airmount isolation.
---
PRINCIPLES OF OPERATION
Model TMF Twin Motor Vibrating Feeders ( Pan and Grizzly Feeders ) are designed to convey product by creating a linear straightline motion. Two counter-rotating motors provide the linear (push-pull) action required.

As the AC motors counter-rotate, the side forces cancel out and the linear forces are combined. With the motors properly attached and located on a rigidized trough suitable for the forces being exerted, and also suspended on isolation springs, the conveyance action is quiet and positive. No belts are required. The synchronized motors provide a semi-balanced design which eliminates the uncontrolled bouncing at shut down.

Final motors selected can be either 1800, 1200 or 900 RPM, depending upon amplitude required. Final motor horsepower selected is a function of trough weight and TPH capacity required.

All motors are continuous duty rated at maximum force. Grease fittings and heavy duty roller bearings are supplied on all 900 and 1200 RPM motors. 1800 RPM motors are factory grease packed and furnished with sealed ball bearings.